Here are the latest COVID-19 updates in downtown Texas for Friday, August 20th.
AUSTIN, Texas: KVUE will keep you up to date with the latest news on coronavirus and COVID-19 in the Austin area.
Scroll down to see the headlines and the latest live blog updates from KVUE on August 20th.
Texas: More than 2.8 million cases have been reported in the state and more than 53,500 people in Texas have died, according to the Texas State Department of Health Services.
Central Texas Counties:

Austin-Travis County: The moving average of seven new entrants is 77, and an average of 602 people are admitted. The seven-day moving average for new cases is 551. Since the beginning of the pandemic, more than 98,256 cases have been reported and at least 924 people have died.
Hays County: There are currently 2,243 active cases and 57 people are currently hospitalized (45 unvaccinated, 12 vaccinated). Since the beginning of the pandemic, at least 23,630 confirmed cases have been reported and at least 296 people have died. At least 21,091 people have recovered from the virus.
Williamson County: There are 325 new cases and 11% of hospital beds and 1% of ICU beds are available. Since the beginning of the pandemic, at least 49,308 cases have been reported in the county and at least 512 people have died.

Central Texas School Districts:

Austin ISD: At 5 pm on August 19, there are a total of 48 new COVID-19 cases (23 students, 22 employees, three more) and a total of 162 new exhibits (156 students and six employees) . At its massive testing clinics on Monday, AISD said 188 people were tested and 25 tested positive.
Round Rock ISD: As of August 19, there are zero new positive cases and zero new "close contact" cases. ** The data will be updated from 20/20/2021 **
Leander ISD: For the week of August 20 (Saturday to Friday), there are 169 new positive cases.
Pflugerville ISD: For the week of August 20, there are 107 new positive cases.
Hays CISD: Hays CISD data releases on Monday, August 23rd.
To view COVID-19 data in all counties in the state, click here. KVUE tracks COVID-19 data from five Central Texas school districts. Many school districts have their own COVID-19 board.
GRAPHICS: Coronavirus data as of August 19, 2021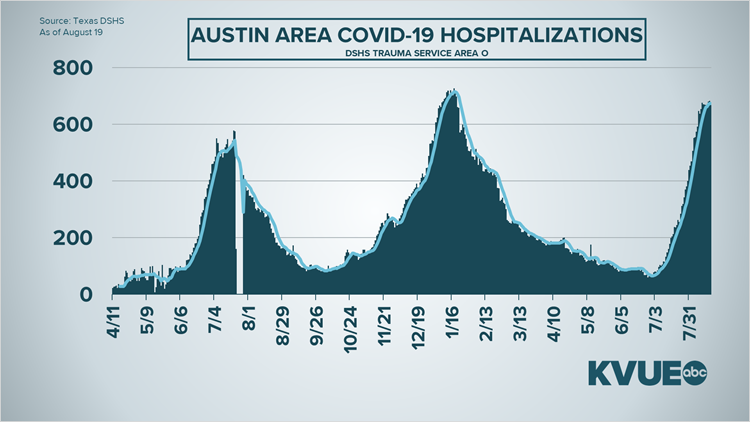 7 h – Round Rock ISD is considering turning masks into a part of the dress code. On Thursday night, board members gathered input from students and parents.
This comes after Paris ISD, in northeast Texas, had made masks mandatory in dress codes earlier this week. RRISD did not take any further action on the issue, but the issue will be reviewed sometime in early 2022.
I'LL SEE: Texas Medical Association COVID-19 Working Group Member Answers Questions on Reinforcement Traits
VERIFY: Therefore, Ivermectin is not authorized to treat COVID-19 right now
Texas Supreme Court Rejects Gov. Abbott's Request to Suspend Travis County Mask Orders
ACL Fest 2021 Release Schedule; will require a vaccination test or a negative COVID-19 test
The Backstory: Texas 'worst commercial aviation disaster happened this month 36 years ago